LE Graphics offer companies Low cost advertising with our Full Colour PVC Banners
Our PVC Banners offer Incredible value-for-money outdoor advertising. They are printed full colour on Premium grade PVC Banner Material.
Printed Banners make great attention grabbing signs for sports grounds, country fairs and temporary offers. Easy to carry and install they are perhaps the best value for money sign type which we offer.
Our one stop sign shop is fully equipped to produce attention grabbing banners for your next promotion or event. Our state of the art printing equipment and sophisticated software are only part of the secret to our head-turning finished products.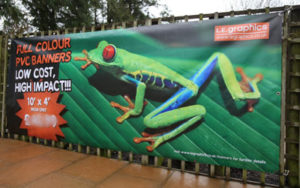 The real secret is our qualified graphic design staff and our experienced sign makers who turn ideas into reality with speed and ease.
Download our PVC Banner Pricelist here
Contact us now to discuss your banner requirements
PHOTO QUALITY COLOUR PRINT
REINFORCED HEMS ALL ROUND FOR DURABILITY
FULL QUALITY CHECK OF CUSTOMER SUPPLIED ARTWORK
FULL GRAPHIC DESIGN SERVICE AVAILABLE (extra charge applies)
DURABLE NICKLE METAL EYELETS FOR EASY FIXING
WE ONLY USE HEAVY DUTY PREMIUM PVC
COMPLETELY WEATHERPROOF
48 HOUR TURNAROUND AND COURIER DELIVERY THROUGHOUT UK AND IRELAND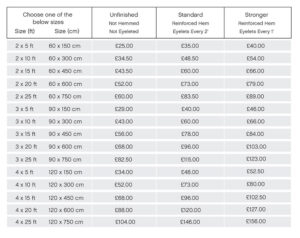 Let us design your banner and provide a PDF proof for your approval for only £15 extra.
(More complicated designs may incur further costs)
Banner normally shipped within 2 working days. Delivery time depends on location.
Delivery UK £15.00 / Delivery Northern Ireland £5.95 / Delivery Republic of Ireland £8.50
Bungee Loops with hook are available at £2.95 each
All prices quoted excluding VAT which will be added if applicable. All prices are subject to confirmation at time of ordering.
Browse pictures of some of our banners – click on any picture to see a larger image: