Rubber Backed Nylon Carpet Logo Mats

are extremely high quality industrial grade mats suitable for high traffic areas.
Suitable areas include Schools, Supermarkets, Offices, Factories and Shops. You can use any number of colours from the selection available on a large variety of mat sizes.  Your logo or image is printed directly onto the mat's surface.
Printed on a state-of-the-art digital printer colours are permanently dyed into the carpet and then treated with an exclusive stain-stopper technology to prevent colour loss. Reproduction of fine details, shading and 3 dimensional images are easily possible with this cutting-edge print process. You can chose from our pallet of 30 standard colours for your mat – and you can use as many of those colours as you wish! (or talk to us about using your own custom colours)
Our carpet logo mats can be machine washed and come with an unbeatable 5 year warranty
There are no artwork or set up costs and mats are delivered in just two weeks form confirmation of artwork. A proof drawing will be delivered by email (or post if you prefer) for your approval prior to production. Simply email your image, logo or slogan to us and you could have your new logo mat within 2 weeks.
GUARANTEED for 5 Years – Will not rot, fade, curl or crack
Machine Washable – or vacuum / shampoo as necessary
We have 30 different print colours – use as many of these as you want in your carpet mat – the price is the same regardless of the number of colours.
No set up or artwork charges. (Many other companies charge for this)
Printed portrait or landscape.
Industrial quality, designed for high traffic ares in schools, supermarkets and businesses.
Designed as a barrier mat to remove dirt and moisture from footwear.
Nitrile rubber backing – many cheaper mats use vinyl backing which cracks and curls.
The digital print goes right to the base of the fibres, is chemically guarded and then oven baked to ensure print durability.
Unlimited standard and bespoke sizes up to 10 Metres by 2 Metres (10M x 2M)
Choice of gripper backing for carpets or flat backing for hard floors.
Delivery 2 weeks from receipt of approved artwork.
Specifications:
Yarn: 6,6 Nylon
Size Variation: +/- 2%
Total Weight: 2700 g/m²
Pile Weight: 700 g/m²
Rubber Backing: Nitrile
(Border 2.5mm / Centre 1.5 mm)
Chosing the right backing:
Our Logo Mats are available with a choice of backing to help preventy the mat from moving on the floor, please advise us whether you intend to use your mat on a carpeted or hard floor surface. Smooth backing is recommended for hard floors and claw backing for carpet floors. You can also have your mats upgraded to 3mm rubber backing or manufactured without a rubber border (additional costs apply).
Cleaning your Logo Mat:
Your logo mat will require cleaning to keep it in best condition. Frequency of cleaning and methods used will depend on the usage of the mat. Regular maintenance can be done with a vacuum cleaner. Deeper cleaning can be done using a spray extractor, pressure washer or by laundering in a washing machine.
Shape and Size – You Choose:
Our pricelist shows prices for the most common mat sizes, however we can make mats in any size up to 10M x 2M and in any shape (circular and shaped mats will not have a rubber border). Contact us with your requirements for custom sizes or shapes. All dimensions are subject to 2% variation due to the manufacturing processes involved – if your mat is required to sit within a well we recommend ordering oversized and cutting down to suit.
Download your own copy of our logo mat brochure and pricelist now
Download

Messages and Signs: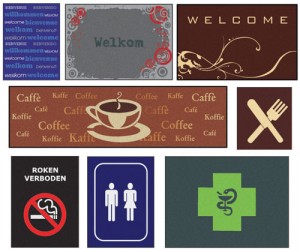 Our printed carpet mats can also be used to carry messages or signs other than your logo – the photos show just some of the ways that carpet mats can be used to get the message across.
We also supply full colour custom printed Rubber Mats suitable for outdoor or indoor use – find out more here.
Read more about the advantages of using mats here.
Contact us for more information on ordering your custom printed mat.
Browse some photos of our carpet logo mats below – click on any image to see a larger picture: