RUBBER LOGO MATS FOR INDOOR OR OUTDOOR USE
Our Rubber Logo Mats are made out of 100% Nitrile Rubber and are perfect for outdoor use as well as a variety of other applications such as industrial environments. They can also be used to post safety signs and messages. These mats feature photographic quality images that have excellent colour brightness and reproduction of fine detail. Because the graphic is moulded into the surface it means that it will not scratch and the vibrant colours will not fade when exposed to sunlight. The textured surface prevents slipping and scrapes dirt and grime off shoes without affecting the image.
The mats are extremely durable and are designed to be placed in high traffic entrances both indoors and outdoors. The mats are high traction, non slip and resistant to oils, grease and chemicals.
Put any logo and colour you wish on a rubber logo mat. Tones, shades and photographic images are all possible.
Specifications:
Construction: 100% nitrile rubber
Mat Thickness: 5mm
Weight: 3600g/m2
Size variation: +/-5%
Download a copy of our complete logomat brochure and pricelist now
Download
Guide prices for our rubber logomat range (use the button above to download a full pricelist and brochure)
Safety Messages on Rubber Mats
Our rubber logo mats are ideal for getting your safety message across. We can put any safety sign or message on a rubber mat, the photo shows a few ideas.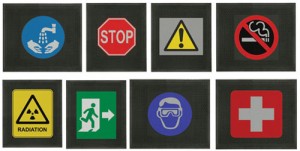 We also supply a range of Rubber Backed Carpet Mats printed with your logo or design.
Read all the Dirty Facts about Mats.
Contact us for more information on ordering your custom mat.
Browse some images of our rubber logomats below. Click on any image to see a larger copy: