Embroidery and Printing Methods Explained
Embroidery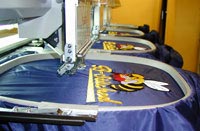 Nothing can compare to the quality look or feel of an embroidered crest. It is colourful, attractive and durable. Embroidery is our preferred method of garment decoration and we have invested heavily in the very latest in computerised embroidery equipment to enable us to offer a complete in-house embroidery service to our customers.
Our range of single and multi-head embroidery machines allow us to cater for all sizes of order from a single garment to runs of thousands and our flexible approach means that no order is too big or too small making us the ideal one-stop-shop for your embroidered clothing.
Embroidery Set Up Considerations
Computerised embroidery machines require a disk for each design which contains all of the data telling the machine where each stitch should go etc. The process of creating such a disk is called "digitising" or "punching" the logo or design.
We have a very extensive library of pre-digitised designs, which cover a wide range of sports, trades, emblems etc. In many cases customers can find something suitable in our stock design library to which we can then add their choice of wording or name. In a case such as this there is no set-up or digitising cost involved. You can browse our stock designs here.
Of course, in most cases our customers would like their garments to be embroidered with their own unique logo or design. This is not a problem, our design studio will be happy to create a logo for you from scratch or to digitise your existing logo for embroidery. There is a fee for this work and the "punching cost" is based upon the number of stitches in the design. You will find full details of the cost per thousand stitches in our current pricelist or in our terms and conditions page, which can be viewed here. Alternatively you can simply send us a copy of your existing logo and we will return an exact quotation.
Of course, once you have paid to have your logo digitised it will be held in our system and you will not be charged a set-up fee for any further orders which use the same design – thread colours can also be changed (for example to suit different colour garments).
If you have a copy of your logo or crest in embroidery format from another embroiderer we can usually convert it for use in our machines, we do not charge for this conversion.
Apart from the initial digitising cost there are no other set-up costs associated with embroidery, which makes it such a flexible method of personalising garments and means that we do not have to impose restrictions such as minimum order quantities.
Embroidery Costs
The cost of actually embroidering a logo onto a garment depends largely on the number of stitches in the design (which directly effects the time taken to embroider it). We offer a very competitive discounted rate for embroidering logos onto garments which are purchased from us, you can find the prices in our current catalogue or on our terms and conditions page which can be viewed here. Customers who would like to supply their own garments for embroidery should be aware that not all garments are suited to embroidery and they should read the Customer Garment Decoration section of our terms and conditions which is viewable here.
Screen Printing
Screen Printing is very often the most suitable method of applying large designs to light weight garments. It is also ideally suited for large volume runs of low cost garments (such as promotional tee shirts). In addition screen printing provides a solution for decorating certain items which cannot easily be embroidered such as some bags and umbrellas etc.
Unlike embroidery, screen printing has a necessary set-up cost associated with each and every print run. A silk screen needs to be made for each ink colour and/or print position. This screen is only serviceable for the duration of the print run and cannot be kept for further orders (although the artwork will be kept on file). For this reason there is a minimum order quantity associated with screen printed items. The set-up or screen charge will depend upon many factors such as the complexity of the design, the number of print colours and the type of item being printed. Please contact us with details of your requirement for a detailed quotation.
We can also offer an in-house thermal transfer printing service and in-house cut film printing, we will be happy to help you decide which is best suited to your particular application.
Transfer Printing
As discussed above, due to set-up costs, screen printing is only suitable for larger quantities of garments with the same design. If however you need a one-off or small quantity of garments printed or if you need a different print or personalisation on each shirt or garment then we have a range of transfer print options available.
We can use our cut film printing equipment to print your garments with one or two colour designs which are cut from a special film which is then heat-pressed onto the garment using an industrial heat press – the result is very similar to screen printing and can be applied to all colours of garment with long lasting results.
For designs with very fine detail or multiple colours / fades / blends etc then we can use our thermal transfer printing equipment. The design is printed onto a special transfer paper and is then heat applied to the garment using our industrial heat presses. The result is a full colour, photographic quality print.
The very best thermal printing results are obtained using our dye sublimation printing technique which gives bright vivid colours which are fused right into the fabric of the t-shirt or other garment. Dye sublimation printing can only be used on nylon garments and only on white or very light coloured fabrics.
Questions? If you have any questions or would like further information about embroidery or printing please feel free to contact us.