Premium Bar & Counter Mats
The perfect product for point of purchase visibility
Custom Printed
Hard Wearing Bar Mats

The hardwearing, knitted polyester surface of our bar and counter mats can be fully customised with your choice of vibrant, photographic quality design.

The durable 0.9mm Nitrile backing offers protection for surfaces and has outstanding lay flat properties. Our standard 12mm Nitrile border frames your chosen design for a classic finish.

The perfect product for point of purchase visibility
Photographic HD Sublimation Print Quality
High Quality, knitted polyester surface
100% Nitrile rubber
Anti-slip Backing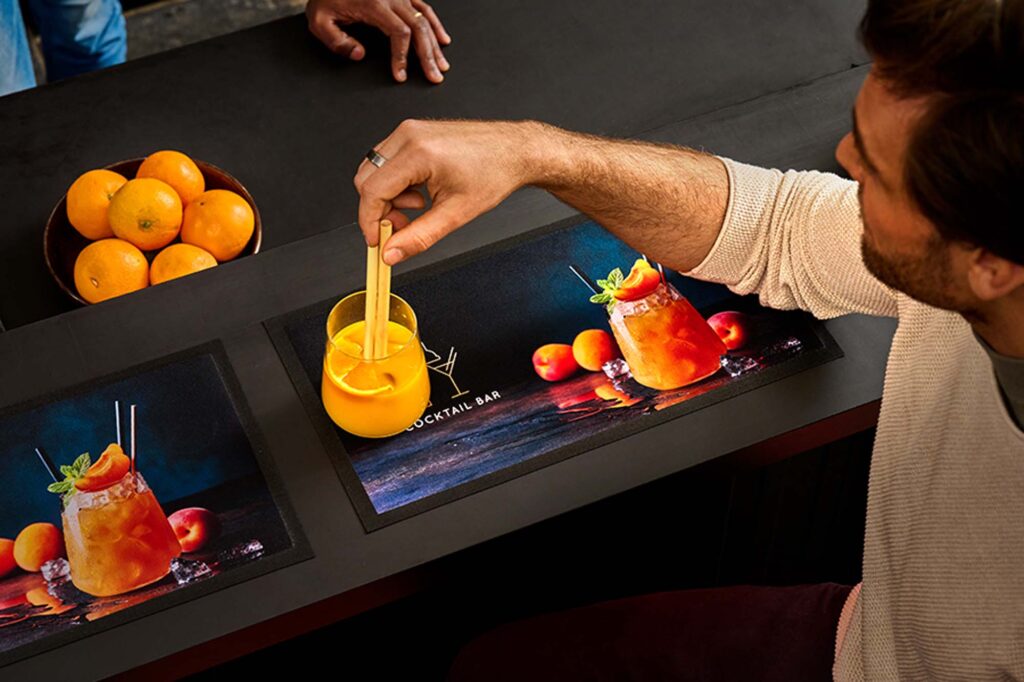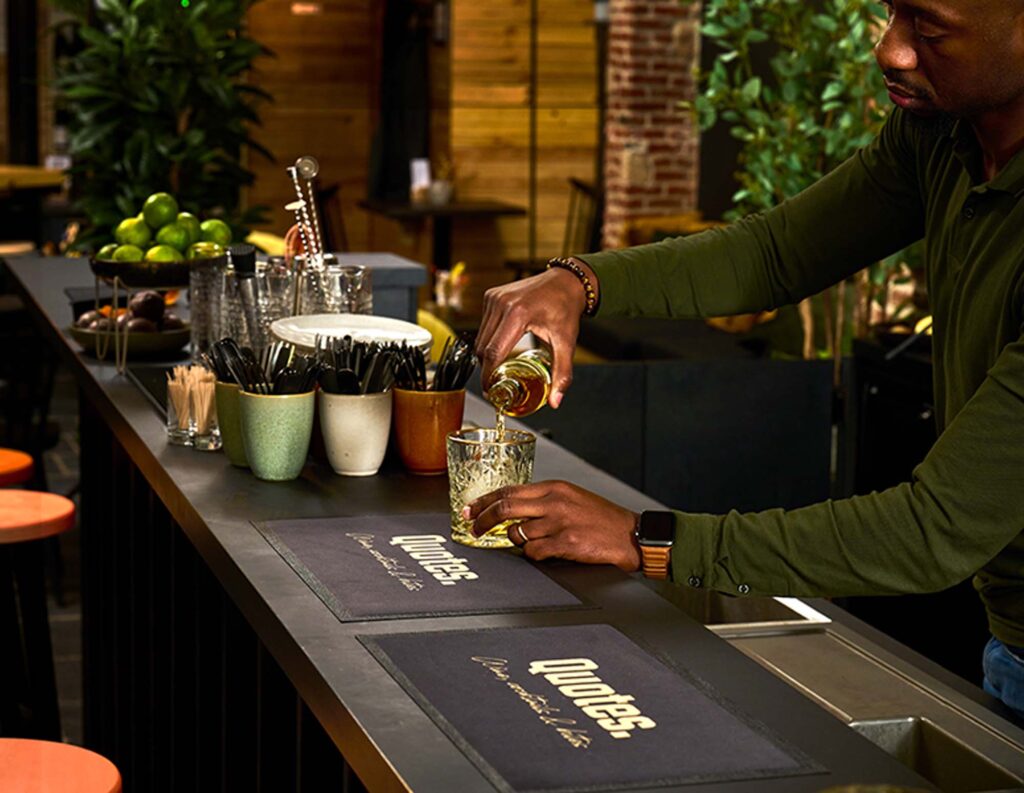 Durable and Easy Cleaned

The perfect product for Point of Purchase visibility, our Premium Bar Runners are recommended for indoor commercial use at Bars, Restaurants, Product, Promotions, Point-of-Purchase displays and Counter top applications.

23.4 x 43.4 cm
19 x 60 cm
24.4 x 89.4 cm

Premium Bar Mats can be cleaned in two different ways:
1. They can be rinsed off under the tap.
2. They can be washed in a standard washing machine under 30°C with a mild detergent.
Specifications

Surface: Printed, High Quality Knitted Non-Pill Polyester.
Rubber: 0.9mm 100% Nitrile Rubber Anti-Slip Backing
OVERALL WEIGHT: 1.56kg/m²
MACHINE WASHABLE

Electrostatic Propensity: The electrostatic conductivity is below the 2KV threshold of human sensitivity @45% relative humidity/20°C.

Flame Retardancy: Passes standards for BS 4790:1987 (Hot Metal Nut) - Low radius of effects of ignition. EN 13501-1 Bfl-s1.
Bar & Counter Mat Price List
Prices in GBP (£) excluding VAT. Delivery (Europe) £22 per order.  Minimum order quantity for Bar and Counter Mats = 25 mats.
| Size mm | Price Each 25+ | 501+ | 1001+ | 2001+ | 3001+ | 5001+ | 7501+ |
| --- | --- | --- | --- | --- | --- | --- | --- |
| 190 x 600 mm | £8.32 | £7.20 | £6.72 | £6.27 | £5.70 | £5.18 | £4.66 |
| 234 x 434 mm | £6.92 | £5.99 | £5.60 | £5.24 | £4.75 | £4.29 | £3.91 |
| 244 x 894 mm | £12.22 | £10.55 | £9.87 | £9.23 | £8.37 | £7.58 | £6.83 |