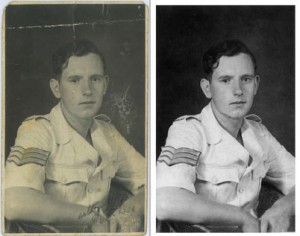 LE Graphics offer a full professional photo restoration service. We specialise in image enhancement, image manipulation and photo retouching services at on standard up-front flat rate.
If you have an old photograph that is precious to you, don't let it fade away – we can restore it (even add colour) and print it for you on exhibition quality paper.
The quality of our glossy photo prints has to be seen to be believed – you will be delighted with your restored photographs – we guarantee it!
We can even restore your old photos and add colour to them or replace missing parts of the picture as you can see form the examples here.
We charge a flat fee for restoring old photographs and this includes providing an exhibition quality print up to 10″x8″ or A4 size. The cost for the restoration work includes the first print as well as a copy of the restored photograph saved as a high resolution file on CD or sent by email. Price starts at £29.95 for most photographs but may be slightly higher for photographs where damage is extensive or large parts of the photograph are missing.  We will contact you before commencing work if the cost is likely to be higher than the price above. Additional prints are available at £3.99 each (up to A4 or 10″x8″) and we can also print copies up to A0 poster size if the original photo is of good enough quality – contact us to discuss this.
To have your photo restored you can click the "Buy Now" button below to make secure online payment and then either upload a high quality scan of your picture or post the original to us. We will send your restored print(s) by Royal Mail recorded delivery and will also return any originals received. Please do not send us any frames, mounts or albums and please ensure that your photo is well packed (stiff backing) and sent by a trackable / insured delivery method for your own peace of mind.
If you live nearby to our studio you can call in and we will take a copy of your original photo and return it to you while you wait.
Contact us if you have any questions about our photo restoration service