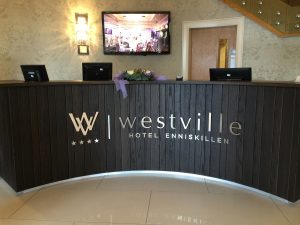 Enniskillen's Westville Hotel have recently had a face lift with an attractive new colour scheme to the exterior and new flooring and a new counter in the reception area.
We at LE Graphics were delighted to play our part in the over-haul by supplying and fitting new brand signage to the front of the reception counter.
The sign features the hotels motif and name cut from 3mm thick brush finished stainless steel and mounted in 3D relief on nickel plated locator studs. The small text and the four stars are also cut from stainless steel but are mounted directly to the timber counter to give a variation in letter depth and relief.
Next time you're in Enniskillen be sure to call into the Westville for something to eat and, of course, a chance to admire the signage on the way through reception!