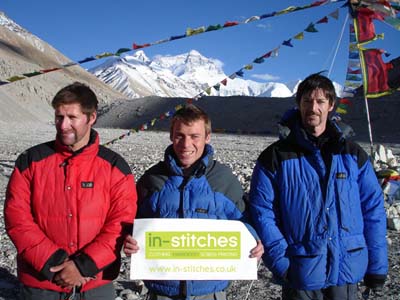 In May 2006, three local mountaineers, Fergal Corrigan, Raymond Hassard and Neill Elliott became the first climbers from County Fermanagh to attempt and successfully reach the summit of Mount Everest. A fourth climber – Geoffrey Weir from Bangor missed out on the final part of the climb due to a chest infection. The four climbers from Northern Ireland were accompanied by two climbers from England, Steve Hodge and Jonathan Salter.
The team of six had undergone rigorous training in preparation for their attempt to climb Mount Everest 8848m, the highest mountain in the world. They climbed via the NE Ridge of Everest, this route constitutes a steep and technically demanding route, with climbers camping at an altitude of 8300m before climbing the difficult second step and then reaching the summit ridge, this being an exposed ridge traverse at over 28,000ft, before finally standing on the summit.
A simple text message from the Fermanagh led Everest 2006 expedition relayed the news back. It read "Job Done. Five summited Everest and back at 8,300 metres". Just the news we all wanted to hear.
The climbers faced all the rigours of high wind, high altitude and low temperatures, so this will be no light achievement for such a small team. The expedition took place in the 50th anniversary year of the Duke of Edinburgh Award and the team, two of whom are DoE Gold award holders carried a flag to the summit to mark the event.
At 6 o'clock in the morning (Nepal Time), the five climbers stood on the top of the world! Raymond, Steve, Jonathan, Neill and Fergal set off on their epic journey at 10 0'clock the night before in minus temperatures as low as 25 degrees. They had all felt very strong the day before when they reached the final campsite on the mountain at 8300m. They only had time at this campsite to rest for awhile and to try and eat something before melting enough snow for a litre of water each for their push to the summit. They had reached the top of the world just as dawn had broken and described it as one of the most beautiful sights they had ever seen.
Expedition leader Neill Elliott is a good friend of In-Stitches and we were delighted when he returned to tell us that In-Stitches had reached the dizzying heights with him and to prove it he had brought us back a photograph of our banner on top of the world …….. well done Neill and thanks for remembering us!