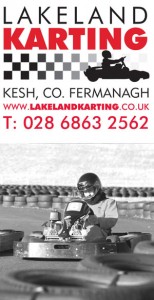 Fermanagh's latest outdoor fun spot is set to be a big hit with locals and tourists alike this summer.
L.E. Graphics were delighted when local business man Aaron Brimstone approached us to help with the branding and marketing of his new 550 meter outdoor Go-Kart track at Bannagh just outside Kesh.
As a starting point we designed a logo and corporate image for Aaron's new venture and then created a Web site, Facebook page and Youtube channel for the business.
Following on from this we designed and produced outdoor signage, roll-up exhibition banners, business cards, flyers, posters and banners for Lakeland Karting.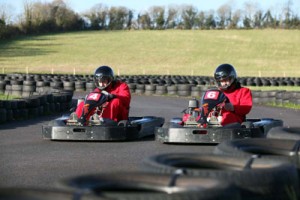 You can find out all about Lakeland Karting by visiting www.lakelandkarting.co.uk or you can find them on facebook at www.facebook.com/lakelandkarting
We have teamed up with Lakeland Karting to offer our customers an extremely low cost advertising opportunity. They are currently selling advertising space around the track and have offered to give 6 Months Free to anyone who says they are a customer of LE Graphics. So they will give your banner track-side placement for a year at HALF PRICE!
Their offer is a perfect match for our new low cost full colour banners – you can get a full colour banner in Lakeland Kartings preferred 10ft x 2ft size for only £37.95
Find out more about the advertising opportunities at Lakeland Karting by phoning Aaron on 077 3938 2979 or by contacting him online here.