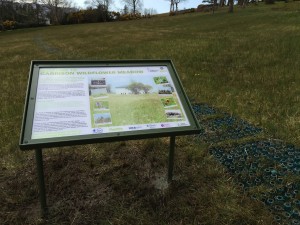 LE Graphics have been supplying various items of signage and exhibition displays to Ulster Wildlife over the past few years.
Our most recent collaboration was to supply and install a lectern style sign at Garrison Wildflower Meadow in Garrison, Co Fermanagh.
The Meadow was set up as part of the Save Our Magnificent Meadows partnership project which is helping to transform the fortunes of our vanishing wildflower meadows, grasslands and wildlife.
Supported by the parish of Belleek the meadow is open to exploration by members of the public along the new path which has been provided by local volunteer groups. The meadow can be found adjacent to the Chapel on the Belleek Road out of Garrison.
Find out more about the great work of Ulster wildlife on their facebook page or on their website here