New Factory Signs fitted for Molloy's Seafood Factory in Killybegs.
LE Graphics were recently selected to design and fit factory signs for Molloy's Fish at their Killybegs Factory. This included an acrylic 3D individual letter and logo sign on the main exterior wall, wall mounted sign panels, and roadside sign posts on approach to the factory.
LE Graphics first forged a relationship with Molloy's in 2012 when they opened their first retail store in Enniskillen and since then we have been proud to be their go to supplier for signs, vehicle graphics and embroidered clothing.
Molloy's Fish is a family run seafood sales business based in Ireland's premier fishing port of Killybegs on the beautiful south west coast of Donegal.
Established in 1968 by Conal Snr, the Molloy family have been supplying the finest quality fish for some 50 years.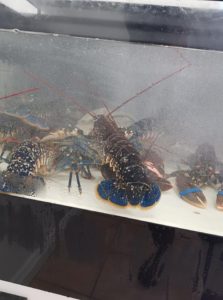 Molloy's Fish are established wholesalers of the finest seafood products to shops and restaurants throughout the region and for several years retail customers have been able to avail of the same fresh products at their Fish Counters in Tesco Enniskillen and Tesco Cookstown.  Now you can get your fish directly from the source with the opening of a new factory shop at their Killybegs processing plant.
If you are in the Killybegs area call into their factory shop on the main Ardara Road for a wide range of fresh seafood – they even have live lobsters available now – and if you are not that close then they can have these delivered to their store in Tesco Enniskillen for the next day.
Check Molloy's  Fish out online at http://molloysfish.ie/
or follow them on Facebook at https://www.facebook.com/MolloysFishKillybegs/ for some mouthwatering recepies and other news.