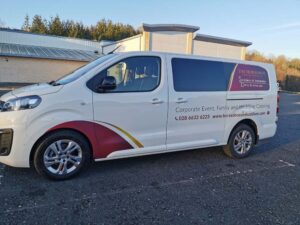 "Livery" and "Horses" normally go together in a different way, but this week we were excited to put together a new "vehicle livery" for the latest addition to the fleet belonging to local restaurant and pub The Horseshoe.
The shiny new Vauxhall Vivaro crew cab van has had complimentary graphics fitted using the traditional burgundy and gold colours of The Horseshoe Restaurant and Saddlers Bistro & Wine Bar.
We think the design is simple and clean with the graphic behind the front wheel arches adding just enough to integrate the livery across the whole vehicle.
Contact us to see how we can turn your vehicle into a mobile advertising campaign and next time you are in Enniskillen, check out the Horseshoe and Saddlers for something to eat, you won't regret it.