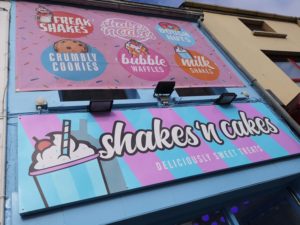 If you've got a sweet tooth and you live in or near Enniskillen then you're in for a real treat.
We have just finished making and fitting a selection of  signs, window graphics and banners for Enniskillen's newest "Desert" shop.
In addition to a new shop front sign, we printed and fitted a large format banner and some catchy window graphics – we also applied a vinyl wrap to a display fridge.
Shakes 'n' cakes offers a mouthwatering range of Cookies, Milk Shakes, Bubble Waffles, Dough Nuts and "Freak" Shakes, we certainly can't wait for a chance to try some of their delicious creations.
Check out their Facebook page  here for the latest news and photos of products on their menu or better still call in and try for yourself at 6 Forthill Street.