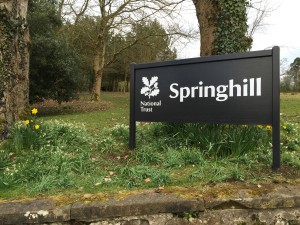 This week we have had the privilege of working at another one of Northern Irelands spectacular National Trust properties.
Springhill just outside Moneymore is a beautiful Plantation House dating back to the 17th Century, the house and contents are well worth visiting and are complimented by a celebrated costume museum in the old laundry house as well as and extensive network of walks around the grounds and an adventure play area for children.
We were blessed with fantastic weather all week for the installation of a new signage scheme all around the house grounds and wider estate.
As with the other National Trust properties which we have worked on over the last few years, the signage at Springhill has been designed to be functional and durable, yet it is made from traditional materials and in a style which compliments the age and feel of this magnificent property.
Have a browse through some photographs of our signs below and maybe it will prompt you to put Springhill on your list of places to visit very soon !