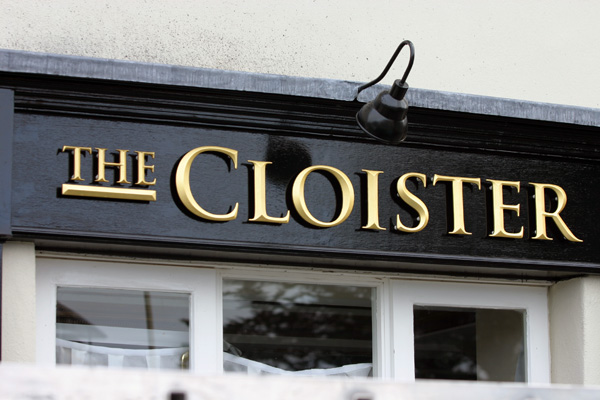 L.E. Graphics are proud to have been selected to manufacture and fit the signage for an exciting new development in Ennis, Co. Clare.
The Cloister complex is a development comprising a Restaurant, Bars and a select Delicatessen.
What makes the Cloister special is the fact that the Cloister Restaurant lies within the Ennis Friary cloistral buildings. The latter is a national monument and part of the restaurant, including the courtyard dates back to medieval times. It is, as far as we know, the only national monument in Ireland which is in private ownership and is subject to a very strict Preservation Order.
The Ennis Friary was established in the early 13th century and was once a home to more than 300 Franciscan Friars and students.
Since the Cloister Restaurant is built within the friary cloister, every part of this development has been subject to extreme scrutiny to ensure that it is complimentary to the historic buildings with which it is so closely entwined. The signage was no exception.
We were extremely pleased when we were selected to make and fit the signage which comprises of eight fascia signs in total.
We carved all of the letters individually and after intensive hand finishing and sanding, they were all hand gilded with 22ct gold leaf. The letters are individually mounted onto wooden sign boards and span the full length of this impressive building.
L.E. Graphics were also involved in making and applying Celtic patterns in frosted glass film to glass screens and doors within the complex.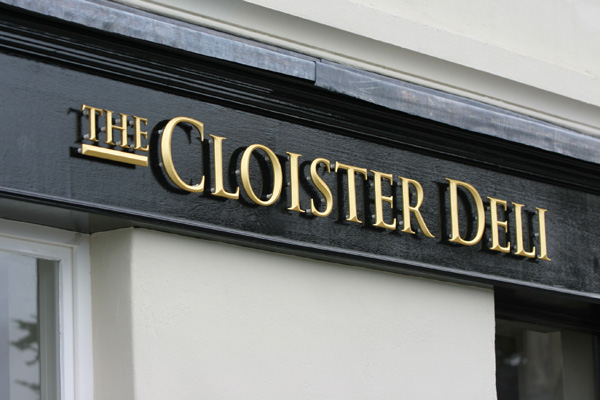 If you are ever in Ennis, we recommend you pop into the Cloisters at Abbey Street, for a once in a life time chance to drink a pint in the holy grounds of a friary!