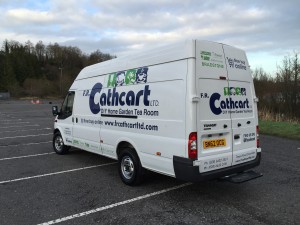 This week we completed yet another vehicle livery for our friends and long time customers at FR Cathcart Ltd in Enniskillen and it got us thinking about just how long we've been designing and applying vehicle graphics.
Since our business first opened it's doors in 1995 we have designed and applied graphics to literally thousands of vehicles for thousands of different clients.
Vehicles which we have sign written have ranged from fleets of articulated trucks to vans, boats, fighter jets, helicopters, trains, round the world yachts, mine clearance vehicles, racing cars, motorbikes and even a WWII catalina flying boat.
[ap_divider color="#CCCCCC" style="solid" thickness="1px" width="100%" mar_top="20px" mar_bot="20px"]
Of course we pride ourselves in building relationships with our customers and this ethos was brought to mid this week when we remembered that the very first vehicle which we applied sign writing to was a van for Mr Roy Cathcart of FR Cathcart Ltd – it was a blue Ford Escort which was sign written twenty one years ago this month – back in January 1995. In fact, we liveried several vehicles for FR Cathcart's around the same time and have looked after their fleet graphics ever since. We took some time today and  delved into our photo archive (which is actually a very disorganised box of 35mm negatives and photographs!), and we found some photographs of the vehicles in question. For the eagle eyed among you – the photo of the escort van was taken sometime after it was first sign written when it was back with us to have the dialling code updated from 0365 to 01365 !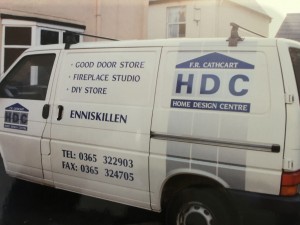 [ap_divider color="#CCCCCC" style="solid" thickness="1px" width="100%" mar_top="20px" mar_bot="20px"]
Design and Graphics that both Stand the Test of Time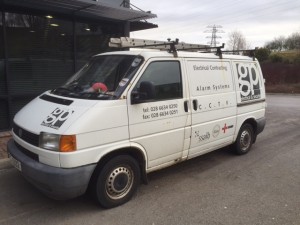 Of course when we apply graphics to a van we usually tell the customer that the graphics will be good for many years, invariably we don't get to know just how long graphics may last as they tend to outlast the actual vehicle. So we were delighted last month when another long-time customer, Gary Phair from GP Electrical & Security sent us a photograph of a van which we liveried for him some twenty years ago – back in 1996. Amazingly the van in question is still in service (it's now based at a factory in England where GP Electrical have a maintenance contract). Gary tells us that the graphics are still as good as when they were first applied (the only modifications were updated phone numbers as the dialling codes changed through the years)!
As the photos show, the graphics on the original GP van from 1996 bears a striking resemblance to the current livery used by the company today, a testament to the timeless deign of the logo and corporate image designed by LE Graphics for GP Electrical & Security twenty years ago!