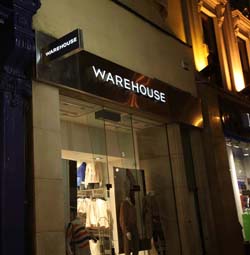 Having recently been appointed by leading Fashion chain Warehouse as their signage contractors for Ireland, L.E. Graphics are delighted to have completed the first two Warehouse installations.
In January we upgraded the exterior signage of the Warehouse store in Cork with new stainless steel fascia panels and built up stainless steel letters with acrylic faces which are internally illuminated using the latest LED technology.
In Limerick, Warehouse has just opened a concession within the famed Brown Thomas department store and in February we completed manufacture and installation of illuminated signage both inside the store and on the exterior of the building.

A short history of Warehouse
The first Warehouse store opened its doors in London in 1976, with a vision of 'design for the high street' to make fashion accessible to all
The concept which was the brainchild of Jeff Banks and Maurice and Michael Bennet also saw the launch in the early 1980's of the innovative Warehouse Bymail catalogue, which had its pages graced by Naomi Campbell, Christy Turlington, Stephanie Seymour and Andie McDowell.
Through the years the brand has been within the Sears, Arcadia and Rubicon groups. The over 300 strong chain now forms part of the Aurora Fashions Group.