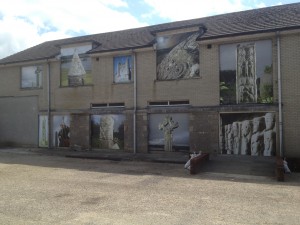 When the Prime Minister announced that the G8 was going to be hosted here, Fermanagh took a long hard look at itself and work started almost immediately on making improvements so that the world would get the best possible impression of this beautiful county.
We were involved in a  great many projects and one of those involved some work in and around the Museums at Enniskillen Castle. After successfully winning a competitive tender process we were appointed to print and attach temporary window hording to the derelict clinic building situated within the castle grounds. We used images for a recently published book on Fermanagh to create a virtual museum exhibition outdoors on par of the building and to connect people with other historical monuments around Fermanagh.
At the same time we were awarded a separate contract to renovate and replace many of the existing signs in and around the castle and the county museum.
Thanks to the hard work of our team both jobs were completed on time and within a very short timescale.