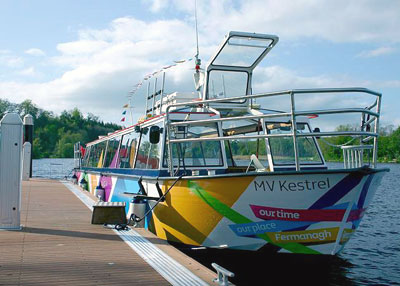 LE Graphics were recently appointed to undertake the re-branding of a famous Fermanagh icon – the M.V. Kestrel
We were delighted to be selected to print and apply a full vinyl hull wrap of this famous Fermanagh Tourist Attraction.
M.V. Kestrel is a waterbus based in Enniskillen that operates a busy schedule of guided tours along Fermanagh's famous Erne Waterway.
In conjunction with Northern Ireland Tourist Board the owner of the Kestrel decided to give this famous boat a new lease of life by re-branding it in the catchy new "Our Time, Our Place" identity developed by NITB (Northern Ireland Tourist Board) and which has formed the backbone of their 2012 marketing campaign.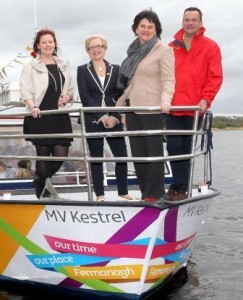 The new livery was officially launched by Tourism Minister Arlene Foster:
Welcoming the commitment of Stephen Nixon, Managing Director of Erne Tours, to the NITB marketing campaign, the Minister said: "As a result of Stephen's enterprise and investment in tourism , this colourful, eye-catching brand will now be visible on these magnificent lakes. It's certainly the most spectacular way for visitors to enjoy all that Lough Erne has to offer.
"The ni2012 branding has been developed to send the strongest possible message that Northern Ireland is firmly focused on the future and that the Northern Ireland Executive is determined to create the opportunities which will benefit everyone.
"As she cruises the lakes, the MV Kestrel will surely be one of the most striking symbols of our ni2012 campaign."
As well as the eye-catching hull graphics LE Graphics also undertook the task of re-branding the interior of the boat with complimentary graphics panels even being applied to the roof!
David Donaldson from LE Graphics said that the biggest challenge in printing and fitting all of the graphics was the very tight time limits – the hull graphics had to be completed when the boat was out of the water for it's annual inspection and we had just two days to prepare and print all of the graphics and only one day to fit them.
The re-branding package was completed by matching uniform which we supplied for the Captain and Crew and even a new branded flag which now proudly flies from the vessels flag staff!
For further details about MV Kestrel and it's summer tour itinerary visit www.ernetours.com