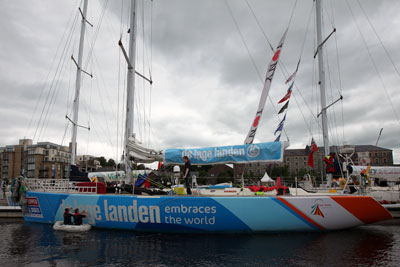 L.E. Graphics were pleased to have been appointed to repair hull graphics for the Clipper Round the World Yacht Race.
The Clipper Round the World Yacht Race is the only fully crewed round the world yacht race. This year 10 yachts are competing in the epic challenge and this week they stopped over in Derry – Londonderry at the end of their Atlantic Crossing Leg.
The Dutch entry the "De Lage Landen" was damaged in rough seas when leaving New York and so the crew did the only thing they could – they sailed it right across the Atlantic Ocean to have us repair it (well, in truth they were coming this way anyhow!!).
When we got the call from the Race Organisers calling upon our expertise, we were delighted to travel up to Foyle Marina and restore the De Lage Landen back to its full glory.
Rob Carter – Race Office Manager with Clipper Ventures PLC commented:
"Having arrived in Derry-Londonderry for the penultimate stopover of the Clipper 11-12 Round the World Yacht Race we required some urgent repair work to take place on one of our 68ft yachts. David was able to provide examples of previous work conducted on boats along with an very competitive quote. David and his team were punctual, courteous and focused on the job in hand, which resulted in a finish that is completely satisfactory. I would not hesitate to use L.E. Graphics in the future."
You can discover more about the Clipper Race at their website here.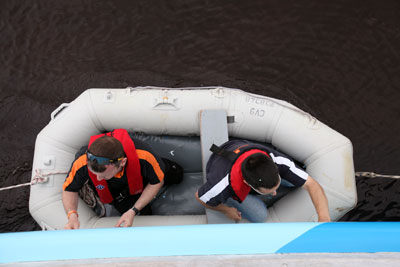 Having to work on the full side of the boat right down to the waterline meant spending most of a day in this (not so large) dingy!!