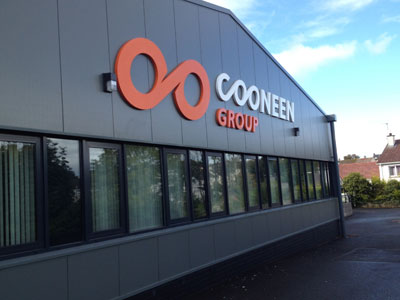 Cooneen Group a leading manufacturer of clothing and specialist PPE recently completed a major upgrade to their Fivemiletown factory and L.E. Graphics were delighted to have been selected to manufacture and install signage to brand the impressive new building with the new Cooneen Group corporate logo.
The main element of the signage was two very large (9 metres wide to be exact) signs comprising of individual letters and logo elements made from built up aluminium and stainless steel and powdercoated in the companys corporate colours.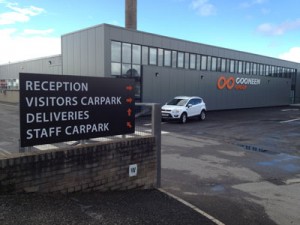 Directional signage throughout the carpark was finished in matching colours and was installed on galvanised steel sign posts using DoE standard signfix system for a durable and long lasting end result which still complimented the main signage and the company's corporate branding.