---
10th April – UPDATE
Another day and another update!

It's the end of the week and I think we are now able to say that "We're doing OK at this face shield making business!"

Today our hard-working team of volunteers managed to once again break our own record. Today we manufactured, packaged and delivered just over two hundred face shields to South West Acute Hospital, bringing the total produced this week to just over six hundred.

The second laser cutter kindly loaned to us by St Michael's College has really helped to increase output.

As well as the face shields we were able to deliver another three hundred litres of high quality hand sanitiser to front line healthcare workers in our local community. I dropped off bulk containers to lots of locations healthcare teams in need of it including: The Enniskillen Rapid Response Nursing Team, Care Plus, Lakeland Community Care, Adult Learning Disability Services Team, Northwick House Care Home, Colorado Care Home, Derrygonnelly Medical Practice, Drumary House Care Home, Knockmore House Care Home, Maple Health Care Practice (Lisnaskea Medical Centre), Gortacharn Nursing Home, The Tilery Nursing Home, Gillbrooke Nursing Home & Meadowview Nursing Home.
This is in addition to the one hundred and fifty litres delivered earlier in the week to Millcroft Nursing home, Graan Abbey Care Home and the South West Acute Hospital.
Nest week we hope to be able to deliver a large quantity of FFP3 masks to our local community care heroes.

The team who helped manufacture the face shields today included Neil Reid, Jason McVitty, William Armstrong and David Morrison, they have all been working very long hard days all week and, of course, completely voluntarily so I am very, very grateful for their help.

We estimate that we have enough plastic to continue with another week of production and hopefully get another 600+ crucial face shields delivered to SWAH. The team are going to take a much needed rest and start assembly again on Monday but we have some special guest volunteers coming in over the weekend to keep the laser cutters running making the components to give us a head start for Monday.

I do have some hand sanitiser left so if you are aware of any professional, community health care teams in our local Fermanagh area who are in need, please let me know and I will try my best to help.

Finally, can I once again thank each and every one of our donors, without your contributions, we just wouldn't be able to help all the people who we have reached this week.

Stay home, protect the NHS and save lives.

Wishing you all good health from
David, Edith and all the team at LE Graphics
---
9th April – UPDATE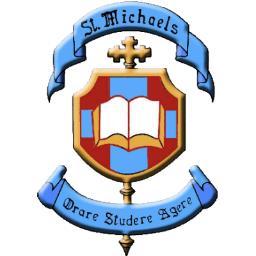 Today we delivered the largest daily number of face shields yet to South West Acute Hospital, this was possible for one big reason. Yesterday afternoon St Michael's College in Enniskillen kindly loaned us the laser cutter from their technology centre and we had this up and running by this morning, supplementing the output from our own laser machine. This meant that we were able to produce, assemble, pack and deliver 19 boxes totalling 133 face shields to the SWAH today.
In a message from Prof Ronan O'Hare (Assistant Medical Director at SWAH) yesterday he said "Thanks David, feedback from the staff is that the shields are excellent". This is all the encouragement that we need to keep going!
In addition the donations are still flooding in both from our GoFundMe page and off line, the total donations received now stands at over £9,500 and growing. We have been overwhelmed by this and are grateful to everyone who has contributed.
We have already delivered out one hundred and fifty litres of hand sanitiser to South West Acute Hospital and have today taken in another three hundred litres. Tomorrow we expect to receive two thousand FFP3 face masks. These have all been purchased thanks to donations received and both the masks and sanitiser will be distributed to carers and nursing homes in our community.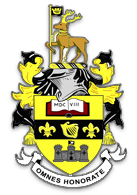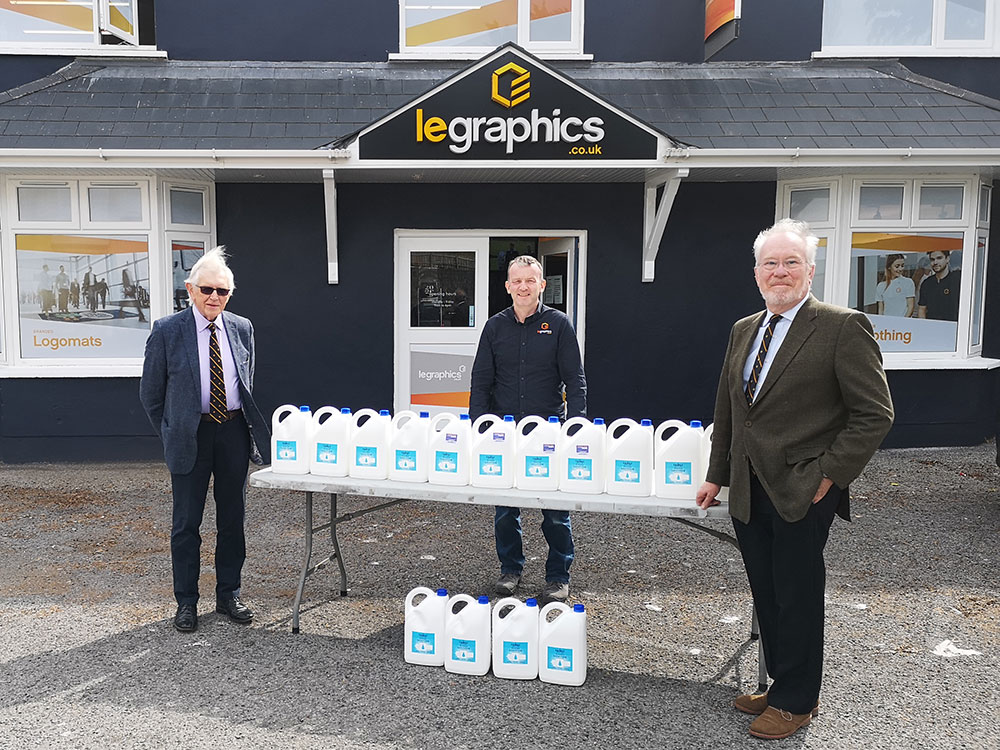 We are extremely grateful to the Old Portora Union who today contributed the amazing sum of £1200 which allowed us to purchase one hundred and fifty litres of the hand sanitiser for distribution to front line health care heroes in Fermanagh.
We cannot express how grateful we are to all of supporters, those who have made much needed financial donations, those who have sent messages of support and those who have freely given their time to help.
This includes the amazing team of staff from LE Graphics who are all on the government furlough scheme but are working voluntarily solely to help produce the face shields as well as non staff members who have been in to help. Its all appreciated and all a great credit to our community.
8th April – UPDATE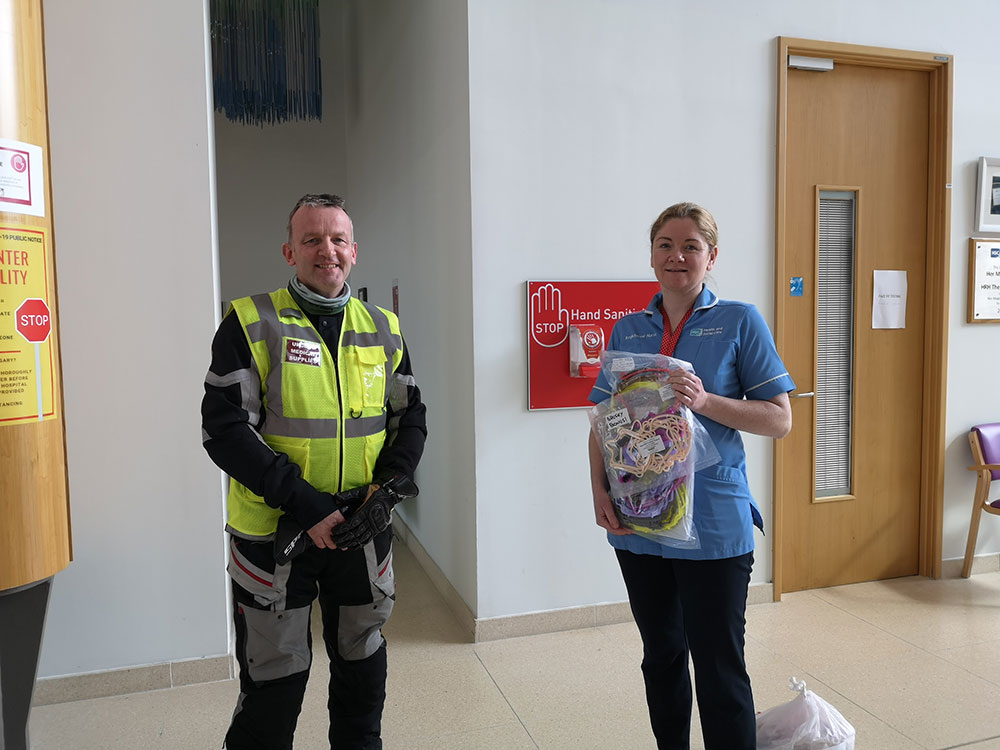 Today we made and delivered another 84 of our face shields to the team at South West Acute Hospital, in addition we were delighted to be able to help another group of volunteers who are 3D printing shields. David as a volunteers with the VBG (Volunteer Bikers Group) was asked to meet another rider in Dungannon and bring back a delivery of face shields for the team in Ward 3 at SWAH. We were happy to help with this.
---
7th April – UPDATE
This morning we delivered the 80 shields which we made yesterday to SWAH, and this afternoon David made a motorcycle run to Belfast to deliver 20 Face Shields to The Department of Anaesthesia at the Belfast City Hospital, and by the end of the day we were able to leave another 84 shields out with South West Acute Hospital. So not a bad day production!
6th April – UPDATE – PRODUCTION HAS STARTED
We have now got hold of some more PETG plastic that will enable us to make a total of over 1000 face shields in the next two weeks or so. We may also be able to get some heavier material that can be used but we will have to make a different design of shield with it, we will move to that when current supply is exhausted.
We completed a first batch of 80 shields today and will deliver those to SWAH tomorrow morning.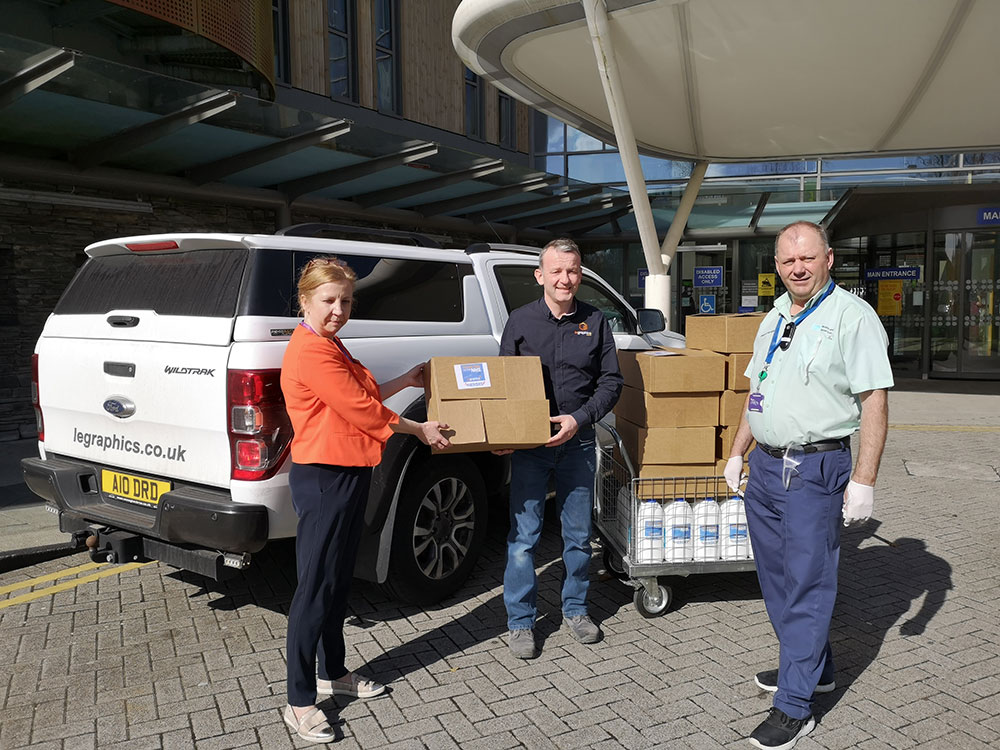 Update – first batch of face shields handed over to Anne Donnaghey, Assistant Director at SWAH on Tuesday 7th April
The video below gives a bit of a glimpse into how we convert 8ft x 4ft sheets of plastic into face shields. We hope to be able to do a similar quantity daily but I will not have time to do daily videos which is probably just as well…… as you will see I'm no Speilberg!
The amazing news is that the fundraising has left us with additional money to be able to source other vital PPE and equipment for our local NHS heroes.
Today we managed to purchase 150 Litres of 75% alcohol hand sanitizer and some medical gloves all of which will accompany the face shields to SWAH tomorrow.
If the funds keep coming in we will keep delivering much needed PPE. It is important to say that everything we source and supply is, quality product and is approved by the senior medical team at SWAH before we go ahead so its all needed, appreciated and used.
On another note – I have received a lot of very genuine requests for face shields and I truly wish we could make more and faster. The truth is there's a limit to how much we can do, our laser cutter can only go so fast, as can our volunteers!!!
I wish we could just supply everyone who asks but we simply cannot and we are not qualified to know where the need is greatest.
For that reason we are delivering them as they are completed to SWAH and they will be distributed from there (under direction of Professor O'Hare) to where the need is greatest. I hope everyone who needs them will get them – we are certainly doing our very best, and if Prof O'Hare or his team need shields delivered to other locations we will take care of that as well.
We are achieving much greater things thanks to the donations and the wonderful messages of support from you all so THANK YOU each and every one.
I would also like to thank the wonderful team of volunteers (staff and family) who are working tirelessly with me to make this all come together
---
4th April 2020 – YOUR HELP IS NEEDED
Although we are currently closed due to the Coronavirus, we have been providing an on-call service for our regular customers to produce urgent virus related signage.
In addition we have also been working away behind the scenes to see how we can help our local NHS staff. We have now completed tests to check if we can manufacture PTEG face shields using our laser cutting equipment and we are pleased to say the results are great.
Our face shields were approved today by Professor Ronan O'Hare, Assistant Medical Director at the South West Acute Hospital, who's response to us was "These are great …. make as many as you can!!"
The biggest problem for us has been sourcing sheets of the PETG material, David Donaldson owner of LE Graphics travelled to Belfast today to take delivery of enough material to make around 600 shields which we have already started work on. We hope to be able to deliver the first batch to staff at SWAH by the middle of next week.
LE graphics have funded the materials for this first batch and for as long as we can get materials we will continue to make and deliver these shields to our front line NHS staff at SWAH, completely free of charge.
Supply of PETG plastic sheeting is now understandably exhausted throughout Europe and manufacturers in Belgium and elsewhere are quoting mid to end May for more supplies.
We have been told that we may be able to secure some more material from a distributor in Belfast early next week and Now WE NEED YOUR HELP. We have set up a crowdfunding page to raise money to buy as much of this stock as we can get our hands on. All material purchased will be used to manufacture and delver shields to SWAH completely free of charge.
In the unlikely event that we have a surplus in donations we will use any left over funds to buy other PPE (such as gloves etc) for SWAH.
Please hep us by donating what you can towards purchasing plastic sheeting for face shield production.