Looking for a bright and breezy advertising idea? … Look no further than flags from L.E. Graphics.
Advertising flags are certainly the right media for supporting your marketing activities effectively.  The advantages are obvious – advertising flags are not only cost-effective but also versatile. They are well suited for company advertising, product advertising or campaigns at the POS, and events. Flags inject colour and movement into your advertising to help your message stand out from the crowd.
If you are looking for flags for indoor or outdoor use, you can choose from a large variety of fabrics and finishes. You can be sure that we will be able to advise you on the right product for your individual needs! The possibilities to design advertising flags are virtually unlimited and the methods of making flags are varied too – from digitally printed flags to hand sewn flags made to Ministry of Defense specification!
Of course the flag poles are as important as the flags themselves and we can supply and install a wide range of poles with all manner of fittings from ground based, to wall mounted to desk-top flag stands!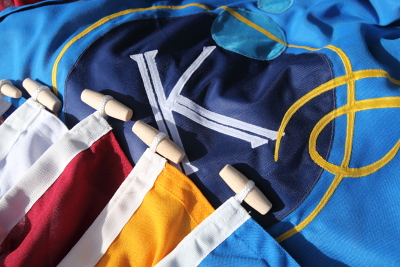 When Enniskillen's four star Killyhevlin Hotel and Health Club came to us to enquire about advertising flags we were delighted to specify, design and install a solution for them.
We set ground sleeves in concrete foundations and then fitted five 8 metre aluminium flagpoles. The poles are adorned with rotating gold finials for a decorative finish and have internal halyards, accessed through a locking door for a practical solution to stop interference with the flags. The flags were specially designed for the hotel by our design studio and the designs are sewn together using heavy duty polyester flag material.