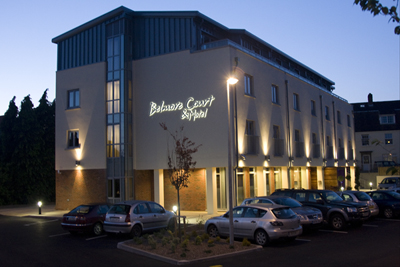 Enniskillen's newest accommodation is the new Belmore Court which is now open beside the already familiar Motel.
Offering a comprehensive range of accommodation to suit all needs. The Belmore Court and Motel is unique, successfully combining the motel a distinctive terrace of houses and the splendor of the new Belmore Court.
LE Graphics were delighted to have been selected to design and manufacture all of the internal and external signage for the new Belmore Court. This included high finish stainless steel letters outside which are highlighted at night with soft LED halo lighting. Internal signage is in the form of brushed steel finish directory and door signs and external directional signs were printed to match the  blue and green colour scheme of the complex. Vertical banners mounted on lighting poles add some colour to the car park area.
Visit our testimonials page to read what the Motel's owner has to say about LE Graphics.