Hughes Pharmacy in Belmore, Street Enniskillen has recently had a face-lift with extensive work to the front of their building.
When the building work was complete they turned to LE Graphics to design and fit their new signage.
The requirement was for something simple and striking which would light up at night but not look like an old fashioned fluorescent sign.
The sign also had to be projected out from the wall to bring it past the existing surface mounted shutter box and the fascias of other shops on the street.
We made a frame-less aluminium sign box which has the lettering stencil cut  and then inlaid with 10mm opal white acrylic with polished edges. The familiar pharmacy symbols of the "green cross" and "serpent & bowl" have been added to each side using the same method with green acrylic.
The whole structure sits out from the wall on specially made steel brackets and frame and this has also allowed us to include the green cross symbols on each gable end of the sign to attract the attention of motorists and pedestrians approaching from either end of the street.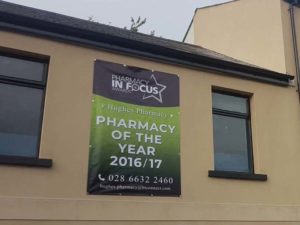 The lettering and symbols are all back lit at night using our high quality LED modules. Over 150 LED modules in this sign ensure a crisp even illumination with no banding or hot spots. Our energy efficient LED's will contribute to substantial savings in energy costs over the life of the sign and a 5 year warranty on both the LED's and power supply give peace of mind for maintenance free operation.
The sign is complimented by a new promotional banner announcing the fact that Hughes were awarded the well deserved accolade of "Pharmacy of the Year 2016/17" at the Pharmacy in Focus awards. Our PVC banners provide an extremely cost effective solution to short term full-colour promotion and can be used in a multitude of applications. Contact us for more information about shop front signs or banners.
You can keep up to date with the products and services available from Hughes Pharmacy through their facebook page here.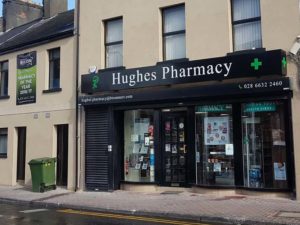 Did you know:
Bowl of Hygieia is one of the symbols of pharmacy. Hygieia was the Greek goddess of Health hygiene, and the associate, wife, or daughter of Asclepius. Asclepius' symbol is his rod, with a snake twined around it; correspondingly, Hygieia's symbol is a cup or chalice with a snake twined around its stem and poised above it.
The bowl of Hygieia has been used as a symbol of the pharmacy profession at least as far back as 1796, when it was used on a coin minted for the Parisian Society of Pharmacy. It has since been adopted by many more pharmaceutical associations worldwide.
The bowl of Hygieia is a common symbol on signs outside of pharmacies in Europe. A mortar and pestle is a more common symbol in the United States.
*Source: Wikipedia