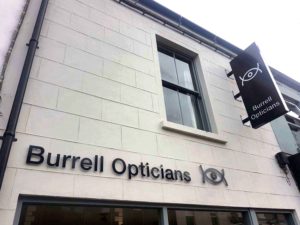 When Alan Burrell recently renovated the front of his Enniskillen shop he needed some new signage to compliment the clean simple lines of the newly refurbished building.
We are delighted that he returned to LE Graphics to design and supply the signage.
The main fascia is treated very simply with letters and logo cut from solid stainless steel letters and powder coated with a sleek satin black finish. The letters are mounted on the plastered wall using small stand-off studs to create a subtle soft shadow.
For the projecting sign we selected folded aluminium panels wrapped around a steel frame The panels are powder coated satin black to match the letters and the stencil cut lettering and logo are inlaid with white acrylic.
The whole assembly is internally illuminated from both side using the latest in ultra thin, energy efficient LED light sheet.
The use of the light sheet for illumination means that we are able to keep the entire sign very thin at just 100mm and by using folded aluminium construction the resultant frame-less sign has a very simple, slick look which we feel perfectly compliments the architecture of the building.
Since their establishment in 1985, Burrells Opticians have been providing a consistently high level of service to their patients from across the wider Fermanagh community and further afield. Check them out online at www.aburrellopticians.com