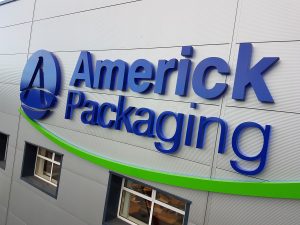 When local manufacturing company Americk recently rebranded from Americk Webtech to Americk Packaging, they needed all of their signage updated to reflect the new name and brand.
LE Graphics were brought onboard to manufacture and fit the new signage and were able to manufacture matching lettering for the largest of the signs so that the entire sign did not have to be replaced – thereby reducing cost and environmental impact.
The signage consists of built up (3D) powder-coated aluminium lettering and logos of the main factory fascia, these letters are halo lit using the latest in low energy LED's creating a very up-market background glow in the companies corporate blue colour at night.
The main reception area signage is made from similar style of lettering (of course much smaller) mounted on a custom made aluminium backing tray and again, halo lit with LED's – in white this time.
In addition the external signage around the grounds of the plant and the wider industrial estate was all updated to reflect the new image.
Americk Packaging has six specialist sites across the UK & Ireland and supply a full range of printed packaging solutions including: cartons, produce packaging, punnets, trays, flexibles, reel-fed and self-adhesive labels.