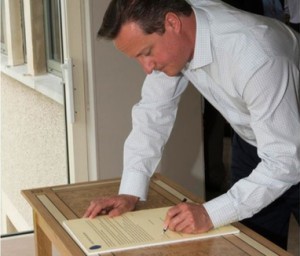 When ten of the most important and powerful people in the World met this week at Enniskillen's Lough Erne Resort many people thought that they would fail to reach agreement on one of their main objectives a clear agreement on global Tax issues.
However the calming influence of the clear Fermanagh air helped to bring a degree of calm to proceedings and to focus the minds of this meeting of world leaders and indeed agreement was reached. So on Tuesday morning (18th June) it was decided that a document would be drawn up entitled "The Lough Erne Declaration" and would be signed by Prime Ministers David Cameron, Stephen Harper, Shinzo Abe and Enrico Letta along with Presidents Barack Obama, Vladimir Putin, Francois Hollande, Chancellor Angela Merkel and His Excellency Herman Van Rompuy and Dr Jose Manuel Durao Barroso.
Only one problem was left ….. who could be trusted to print such an important document at short notice,  deliver it on time and keep it confidential until the press release was complete, who else but the official G8 signage supplier L.E. Graphics !
We received a phone call from the G8 venue at Lough Erne to say that the wording was being drafted by Downing Street and would be with us imminently. As we rushed to source the correct shade and quality of paper, an aide from No 10 was driven to our offices in Enniskillen under police escort to collect the finished document and deliver it without delay through the security cordon and into the Plenary Room at the Lough Erne  where it was duly signed by the assembled world leaders.
The impact of the Lough Erne Declaration will benefit millions of people in the developing world and guess what …. we didn't even charge for printing it!
Our efforts were rewarded the next day when an aide from Number 10 called into our offices to personally deliver a gift from the Prime Minister as a token of appreciation for our help.
What a whirlwind end to a crazy few weeks here at L.E. Graphics – read more about  how we were involved with the G8 here and find out about how we helped to get Enniskillen ready for the world stage here.