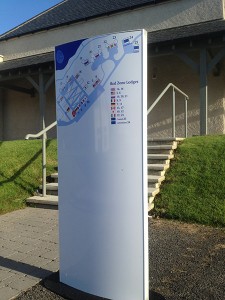 Now that the G8 UK Summit is over and the World Leaders and members of the press have packed up and left Fermanagh we are at liberty to reveal the part that we played in the G8 Summit!
L.E. Graphics were very proud to have been appointed as the official signage suppliers to the G8 Summit. Working through CTN Communications (Corporate Television Networks) for the Foreign and Commonwealth Office and Her Majesty's Government we were the sole suppliers of signage for the World Summit and supplied and installed all of the signage at the two venues, the Lough Erne Resort and the official G8 Media Centre at Enniskillen's Killyhevlin Hotel.
In just one week we manufactured and installed over two hundred signs for the Lough Erne Resort and the Killyhevlin. The signage which we supplied ranged from purpose made totem signs to free standing directory signs, door signs, traffic signs and information signs.
In addition we provided may other products and services to the event organisers – we applied etch vinyl frosting to over 500 windows, we printed and applied temporary vinyl "patches" to match paint work and camouflage where lights and other fitting had been removed. We supplied the official "G8" flags and the G8 logos for the lecterns where the World leaders gave speeches and we even printed the ID passes for the technical production team. We printed the numbering systems for the filing desks in the massive Media Filing Suites and the TV channel guides for the media centres at Lough Erne and Killyhevlin.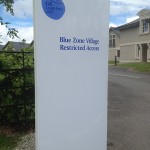 One part of the contract involved us removing all of the existing signs from the Lodges where the leaders stayed and designing, manufacturing and fitting new lodge signs depicting the national flags for each respective Leader's country. We also supplied and fitted special privacy film to the windows of some of lodges where the G8 leaders were staying.
Of all the challenges which were put to us in the lead up to the G8 the most interesting and also the most high profile one came quite literally at the last minute – read all about it here!