A lot of our work is for local businesses in Ireland (North and South) but occasionally our products and services are called upon from further afield.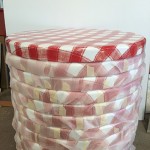 Earlier this year the final pallet of table tops left our workshop bound for the new Ratatouille restaurant at Euro Disney. We printed the design onto 3M wrapping vinyl and then wrapped the design onto the custom built table tops before they got coated with a special resin gel to harden and protect them. The ones shown here are giant ramekin jam jar lids but we have also done other designs including mustard tin lids, pepper tin lids etc!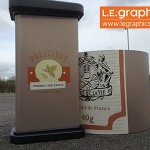 Thanks to our friends at the Deluxe Group in Portadown who we have worked for many years on projects for a wide range of high profile customers such as Waterford, Benefit, Disney, House of Fraser and Harrods.