We are delighted to announce the installation of a new state-of-the-art laser cutting and engraving facility here at LE Graphics.
Installation is now complete and our new laser plant is fully up and running. This will add considerably to our range of products and manufacturing techniques and will allow us to engrave and cut a wide range of materials and products in minute detail.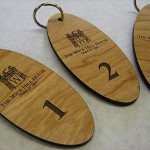 Our laser is capable of engraving and cutting deigns with an accuracy of 0.1mm in a vast range of material including plastic, acrylic, wood, mdf, leather, glass, anodized metals, paper and card and many others.
The new equipment will be particularly useful in the production of smaller products such as custom made name-badges, key fobs, plaques, awards, industrial panels and engraved labels, door signs, plaques and small acrylic letters.
This facility also reduces lead time and costs associated with our custom engraved glass and crystal range and does away with minimum order quantities for this range – you can view all of our engraved crystal range here.
Contact us now for more details on our laser cutting and engraving services.