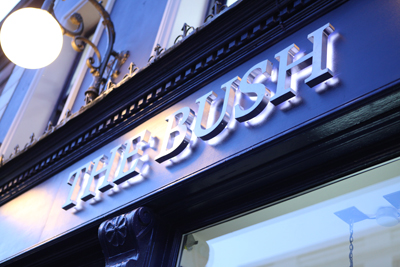 When one of Enniskillen's most well loved entertainment venues underwent a recent a re-fit the owners were quick to approach L.E. Graphics to discuss their signage needs.
The Bush, which has been feeding, "watering" and entertaining locals and tourists alike in Enniskillen for decades has been subject to a major revamp this summer and opened it's doors last week to great acclaim.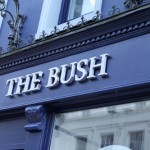 L.E. Graphics were very pleased to have been selected by Nicky and Gavin Cassidy to provide all of the signage required for the new look venue.
The traditional glass and gold leaf pub sign at the front has been replaced with contemporary style built up letters, manufactured from Stainless Steel with energy efficient LED's built in to provide a classy soft halo back-light effect at night.
Two double sided, illuminated oval shaped signs hang in the front windows, proudly displaying "The Bush"  new logo and acting as a warm invitation to passers-by to come in and sample the delights in the new deli area at the front of the venue.
The invitation to drop-in is reinforced by an attractively branded "A Board" pavement sign with chalk panels which announces the daily specials to passing pedestrians.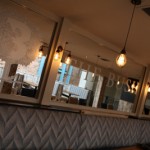 Inside, a series of large wall mirrors have been branded with the name and new logo using our premium etch glass film which was also used on the main entrance door to reinforce the updated brand as well as to comply with building control requirements for manifestations on glass doors and screens .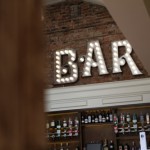 However, the biggest sign installed at the new Bush provides a unique focal point in the upstairs bar area.
One metre high steel letters spelling out the word "BAR" in an ornate type style adorn the wall above the bar area and catch your eye immediately on entering the premises through the main door on the floor below!
The sign was designed by L.E. Graphics to match the unique retro-industrial feel of the upstairs bar. The letters themselves are made from cold-rolled steel which has been deliberately left unfinished with slight rust marks providing a very industrial look. The sign is fitted to a recently exposed but very original red brick wall and to complete the desired look we used galvanised steel conduit and saddle clips to carry the electrical power to each letter.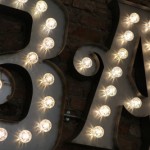 Illumination is in the form of fifty two Cabochon or Fair Ground style lamps. In contrast to the vintage style of these lamps we have actually used state of the art LED's to provide the illumination, over two hundred of them hidden inside the traditional looking cabochon bulbs. With the convincing appearance of traditional filament bulbs but with low energy costs, ultra long life and virtually no heat being generated we are sure that this sign will continue to be a focal point at The Bush for many years to come.