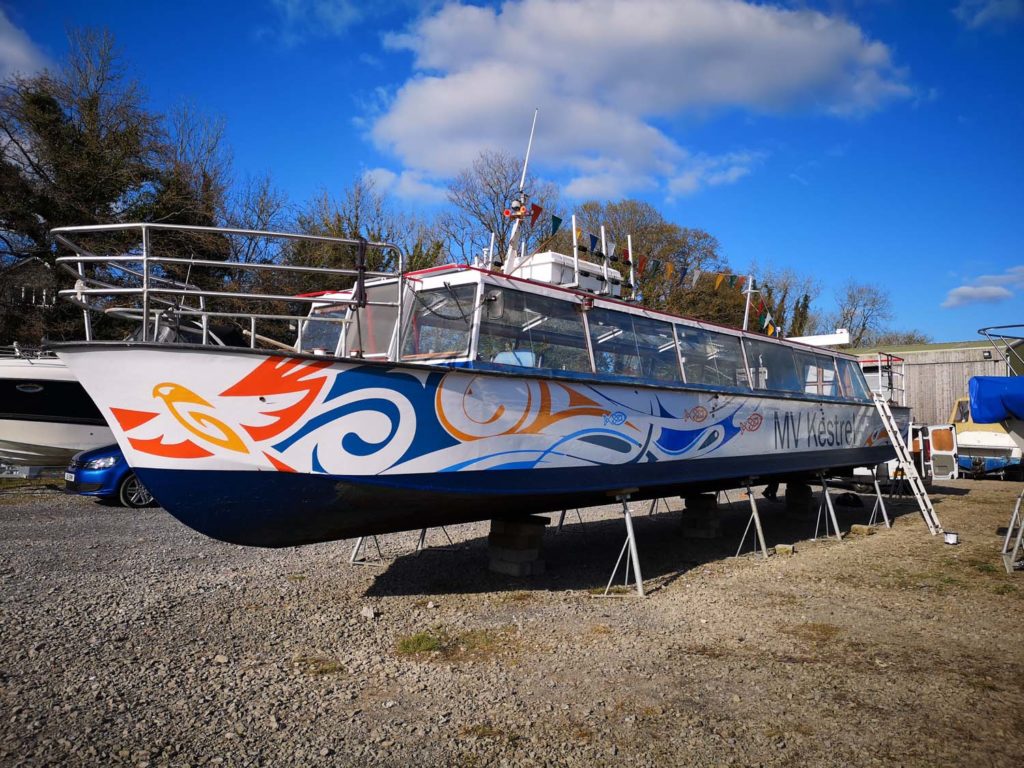 Back in 2012 we were first asked by Stephen Nixon owner of Erne Tours to create a graphic scheme for his Lough Erne tour boat MV Kestrel. In 2012 the theme was to match in with Tourism NI's "Out Time Our Place" marketing campaign and it's fair to say it was a great success.
So much so that Stephen approached us again in 2016 to give MV Kestrel a new look – which again was a great success.
Last week we completed yest another transformation for this iconic vessel with a shiny new wrap from "stem to stern"
MV Kestrel now sports a new glossy white look with a stunning multi-coloured design, which as well as being applied to the entire length of the hull, has also been used to provide a face-lift to the bar front and hatches.
The vinyl wrap took two days to complete and amazingly each side of this large boat has been wrapped in one piece of vinyl running it's entire length from the tip of the bow to the end of the transom.
We are very pleased with the result and are sure that MV Kestrel will be a real head-turner on the Erne Waterways this year – but don't just take our word for it – why not join us for a luxury Dinner Cruise in conjunction with MV Kestrel and Killyhevlin Hotel on 18th May – Tickets are only £30 and all of the money raised goes directly to Action Cancer. Book your tickets here.